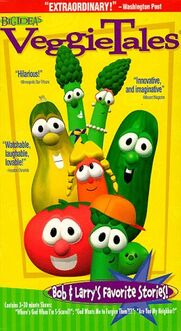 Bob & Larry's Favorite Stories
This is a 1998 VeggieTales Home Video from Big Idea and Lyrick Studios with the following VeggieTales shows, "Where's God When I'm S-Scared?", "God Wants Me To Forgive Them!?!", & "Are You My Neighbor?".
Characters
Theme Song Characters
Defender Of The Wall Members
Israelites
Larry on Screen
Larry-Boy
Fibrilious Minimus
Chocolate Bunny Factory Members
Delivery Girl
Rack, Shack and Benny (Characters)
Carrot Guards
Sheep
Goliath
Christophe Pea
Jean Claude Pea
Penguins
Ad blocker interference detected!
Wikia is a free-to-use site that makes money from advertising. We have a modified experience for viewers using ad blockers

Wikia is not accessible if you've made further modifications. Remove the custom ad blocker rule(s) and the page will load as expected.