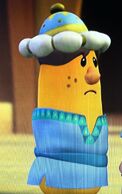 Aaron is a minor character in VeggieTales. He first appears in "Jonah: A VeggieTales Movie." He then appears again in "Duke and the Great Pie War" as Miriam's older brother, Aaron. Soon after, he appears as a cameo character in some episodes.
Appearance
Aaron is an orange carrot beady eyes and nose wears a blue shirt and an Egyptian hat has a freckles.
Acting
Jopponian "Jonah: A VeggieTales Movie"
Wisemen in "The Star of Christmas"
Himself in "Babysitter in De-Nille on "Duke and the Great Pie War"
Orphan in "George Muller on Gideon: Tuba Warrior"
Ad blocker interference detected!
Wikia is a free-to-use site that makes money from advertising. We have a modified experience for viewers using ad blockers

Wikia is not accessible if you've made further modifications. Remove the custom ad blocker rule(s) and the page will load as expected.