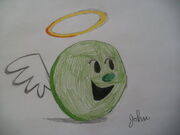 Appearance
Angel Pea is a pea with a hallo and wings and brown belt rules yawn sniff sleepy scretch laughing crying nonsense words or whining.
Acting
Herself in "The Star of Christmas"
Pizza Angels in "Pizza Angel on Minnesota Cuke and the Search For Samson's Hairbrush"
Themselves in "Gideon: Tuba Warrior"
Ad blocker interference detected!
Wikia is a free-to-use site that makes money from advertising. We have a modified experience for viewers using ad blockers

Wikia is not accessible if you've made further modifications. Remove the custom ad blocker rule(s) and the page will load as expected.