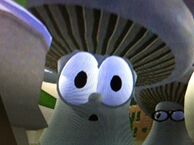 Angus Mushroom is a cameo character in VeggieTales. He only appears in "Larry-Boy and the Rumor Weed." He is first seen driving in the back of a car in the begining of the episode. He then appears again going to the library with the rest of his family. Like his family, he believed the rumors about Alfred being a robot, but soon realized it was a lie.
Appearance
Angus is a small gray mushroom. He is about the same size of his sibling. He has big eyes, but a small mouth and nose.
Acting
Himself in "Larry-Boy and the Rumor Weed" (cameo)
Galley
Ad blocker interference detected!
Wikia is a free-to-use site that makes money from advertising. We have a modified experience for viewers using ad blockers

Wikia is not accessible if you've made further modifications. Remove the custom ad blocker rule(s) and the page will load as expected.