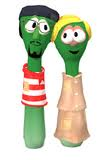 Seb very minor characters in the VeggieTales series. Theywere poor in Madame Blueberry with their daughter, Annie, and served a small apple pie for her birthday. Madame Blueberry seemed sad for the family because the girl only got an apple pie, but the family is thankful for what they have. They seem to live inside a hollow tree for shelter with a small bed.
Appearance
Seb is a Onion wears a black hat and glasses with a beard and a mustache. He wears a French shirt, colored red and white with a matching scarf
He resemblelation of Phil Vischer 
Acting
Himself in "Madame Blueberry"
Pirate in "the Pirates Who Don't Do Anything A VeggieTales Movie"
Ad blocker interference detected!
Wikia is a free-to-use site that makes money from advertising. We have a modified experience for viewers using ad blockers

Wikia is not accessible if you've made further modifications. Remove the custom ad blocker rule(s) and the page will load as expected.