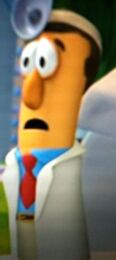 Arthur
is a minor character in VeggieTales He first appears in "The Ballad of Little Joe"
Appearance
Arthur usually wears a light blue collared shirt with a red or blue tie, and tan khakis with a thin brown belt. Hee also grows short, brown hair and eyebrows and has a long or small nose. He is also sometimes seen wearing a lab coat and a metal disk on his head.
Acting
Himselt in ''The Ballad of Little Joe''
Japanese Carrot in ''Sumo Of The Opera''
Themselves in "LarryBoy and the Bad Apple"
Themselves in "The Pirates Who Don't Do Anything: A VeggieTales Movie"
Himself in "Sippy Cup on Minnesota Cuke And The Search For Noah's Umbrella"
Himself in "Saint Nicholas A Story Of Joyful Giving"
Himself in "It's A Meaningful Life"
​Gallery