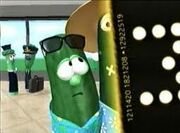 Aunt Ruth
is Larry's aunt in VeggieTales. There are rumors about her that she has a beard, which is mosty true. In one of Larry's vacation pictures, she has a bandage on her cheek, which means she may have shaved. She is mentioned in some songs about her having a beard. Not much is known about her, but she has a beard and it is quite awkward to the other veggies.
Appearance
Aunt Ruth is a tall zucchini. She has warts all over her and a long nose. Her eyelids are colored pink and she wears a tan sun hat. She's never been seen with a beard, though.
Acting
Herself in "Are You My Neighbor?" (mentioned)
Herself in "Dave and the Giant Pickle" (mentioned)
Herself in "Very Silly Songs" (mentioned)
Mother Pickle and Herself in Josh and the Big Wall" (cameo)
Herself in "Are You My Neighbor? on Bob & Larry's Favorite Stories" (Mentioned)
Herself in "VeggieTales"
Herself in "Strawberry, Alvin and the Great Escape"