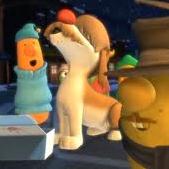 Benny is a stray dog in VeggieTales. He first appears in a Silly Song in the episode "Saint Nicholas: A Story of Joyful Giving" as a stray dog who people fed donuts to. Benny soon got on a sugar high and started singing and dancing with Mr. Lunt in a hyper way. He then appears again in "Twas the Night Before Easter" in the middle of the streets with a donut.
Appearance
Benny is a white and brown dog. He has a bright red nose and hair covers his eyes. His back, tail, ears, and hair on his head is colored brown, while his legs, paws, stomach are colored white.
Acting
Himself in "Saint Nicholas: A Story of Joyful Giving"
Himself in "Twas the Night Before Easter" (cameo)
Lenny's Dog in "Lenny and the Lost Birthday on Robin Good and His Not So Merry Men"
Himself in "The Little House That Stood"
Himself in "Perfect Puppy" On "Celery Night Fever"
Himself in "How the Zucchini Stole Christmas!"
Himself in "Peter Dam: The Boy Who Flew"
Himself in "Princess in Wonderville"
Dog Sled Puller in "Strawberry, Alvin and the Great Escape"
Voice Actors
Mike Nawrocki (main speaking voice)
Kevin Gamble (barks)
Gallery
Ad blocker interference detected!
Wikia is a free-to-use site that makes money from advertising. We have a modified experience for viewers using ad blockers

Wikia is not accessible if you've made further modifications. Remove the custom ad blocker rule(s) and the page will load as expected.