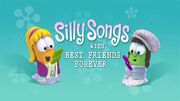 Best Friends Forever
(also known as
B.F.F.
) is the Silly Song from
The Penniless Princess: God's Little Girl
and is sung by Laura Carrot and Papaya.
Lyrics
Cast
Keri Pisapia as Laura Carrot
Megan Murphy as Papaya
Phil Vischer as Announcer
Trivia
This Silly Song was used to promote The Penniless Princess: God's Little Girl when it was played in Chuck E. Cheese resturants as a part of the Summer 2012 Show that played between July and August of 2012.
Video
Ad blocker interference detected!
Wikia is a free-to-use site that makes money from advertising. We have a modified experience for viewers using ad blockers

Wikia is not accessible if you've made further modifications. Remove the custom ad blocker rule(s) and the page will load as expected.