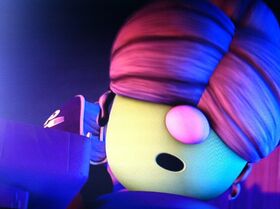 Caroline
is George's wife. She only appears in the full movie, "The Pirates Who Don't Do Anything: A VeggieTales Movie."
She replaces Ma Grape in the movie and has two children, Lucy and George Jr. Caroline is often annoyed at her husband George, because he spends too much time running errands for other workers at the dinner theater.
Appearance
Caroline is very similar to Ma Grape. Like her, she is a green elderly grape. Caroline grows gray hair and her nose is colored pink. Unlike Ma Grape, her eyes are not visable.
Acting
Herself in "The Pirates Who Don't Do Anything: A VeggieTales Movie"
Abe's sisters in "Abe And The Amazing Promise"
Herself in "Princess And The Popstar A Story Of Trading Places"
Herself in "Larry-Boy and the Non Gentle Giant Robot: A VeggieTales Movie"
George's Wife in "A Veggie Christmas Carol"
Ad blocker interference detected!
Wikia is a free-to-use site that makes money from advertising. We have a modified experience for viewers using ad blockers

Wikia is not accessible if you've made further modifications. Remove the custom ad blocker rule(s) and the page will load as expected.