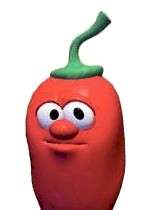 Chili is a chili pepper who has just moved into Bumblyburg from the South. He only appears twice in "Larry-Boy and the Rumor Weed." First, he can be seen driving a taxi cab. Then he appeared as a member of the library board. He believed the rumors about Alfred being a robot, like many other veggies. He soon realized it was a lie.
Appearance
Chili is a red chili pepper. He is skinny and has a green stalk on his head. He has a big nose, and his bottom lip is unusually big. It looks like he is smiling all the time, probably because of his unusually big bottom lip.
Acting
Himself in "Larry-Boy and the Rumor Weed" (cameo)
Gallery
Ad blocker interference detected!
Wikia is a free-to-use site that makes money from advertising. We have a modified experience for viewers using ad blockers

Wikia is not accessible if you've made further modifications. Remove the custom ad blocker rule(s) and the page will load as expected.