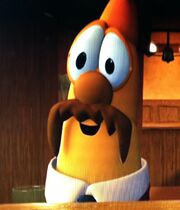 Doyle
is the owner of Doyle's, a resteraunt in England. He appears in
"Sheerluck Holmes and the Golden Ruler"
at the counter of the resteraunt. He is a fan of Sheerlock, and later on Dr. Wattson. Not much is known about him, but that he most likely serves the drinks in his resteraunt.
Appearance
Doyle is a pale orange carrot. He has a tuft of brown hair on his head and a mustache. He also has a big, brown nose and wears a red and white collared shirt. He really resembles Scooter.
Acting
Restauranut Carrot and Himself in "Sheerluck Holmes and the Golden
Ruler"
Gallery
Ad blocker interference detected!
Wikia is a free-to-use site that makes money from advertising. We have a modified experience for viewers using ad blockers

Wikia is not accessible if you've made further modifications. Remove the custom ad blocker rule(s) and the page will load as expected.