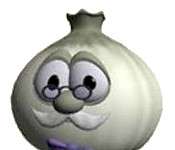 Dr. Glocken is a citizen of Bumblyburg. He only appears in "Larry-Boy and the Rumor Weed." He first appears coming out of the movie theater after seeing "The Pecking." He appears again walking through Bumblyburg. He appears last at the library, believing Alfred was a robot. When the Rumor Weed came out of the ground, he was the last to escape.
Appearance
Dr. Glocken is a white onion. He wears black glasses and a purple bow tie, and has a white mustache.
Acting
Himself in "Larry-Boy and the Rumor Weed" (cameo)
Bruce Onion in "Celery Night Fever"
Gallery
Ad blocker interference detected!
Wikia is a free-to-use site that makes money from advertising. We have a modified experience for viewers using ad blockers

Wikia is not accessible if you've made further modifications. Remove the custom ad blocker rule(s) and the page will load as expected.