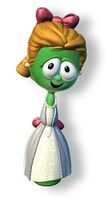 Eloise is princess of Monteria. She and her older brother, Alexander, where boarded by pirates. While Eloise and her butler, William, hid in their boat, Alexander and his men fought the pirates. Alexander and his men lost, and were taken prisoner by the leader of the attack, Robert the Terrible.alexander told Eloise to go hide to protect her but she did'nt want her brother to get hurt and he told her not to worry and he would be all right , so before she went to hide, she told Alexander to be careful and he told his little sister he will.
Robert was Eloise and Alexander's uncle. Eloise and William were never found, so she took one of her father's inventions, The Helpseeker, to find help to rescue Alexander. Soon the heroes arrived, and they rescued Alexander and destroyed Robert the Terrible and his army of pirates. she was frigtend when when she was taken by her evil uncle's men and when she showed up she was calling her big brother and he saw she was afriad. she was happy that her father showed up to save them from his evil brother. robert knew Alexander and elosie loved each other very much thats why his spies brought her to his hide out.
Appearance
Eloise is an 8 year old green onion. She wears a white silk dressing with a pink bow on the back. There are lace outlinings on the dressing. She wears pearl earings and has a small nose. She has blonde hair and eyelashes, which are also blonde, She wears another pink bow, but it is tied to her blonde hair.
Acting
Herself in "The Pirates Who Don't Do Anything: A VeggieTales Movie"
Annie Oatmeal in "Strawberry, Alvin and the Great Escape"
Ad blocker interference detected!
Wikia is a free-to-use site that makes money from advertising. We have a modified experience for viewers using ad blockers

Wikia is not accessible if you've made further modifications. Remove the custom ad blocker rule(s) and the page will load as expected.