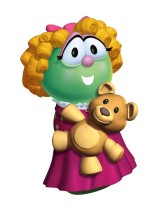 Emma Stewart is the youngest member of The Stewart Family. She was adopted by Stewart  Green Meachine and Donna Stewart, and favors a teddy bear, Mr. McFluffington, which she had at the orphanage. She is often annoyed by her bigger brothers, Art and Barney, who once busted her teddy bear while throwing it as a football. If Stewart would have caught the football at the football game, Emma would have never been adopted by Donna and him.
Appearance
Emma is a Green onion she wears blonde hair her eyelids are pink like her nose and she wears a purple dress.
Did You Know?
She used to pink.
The teddy bear she has is the bear from "Goodnight Junior" which is the silly song from the episode she first appeared in.
Acting
Herself in "It's A Meaningful Life"