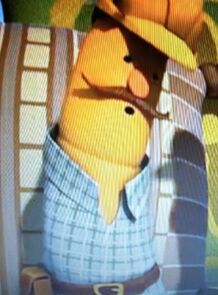 Figaro is a minor character who works at a barber shop with his brother, Leo, in Saville. He is an Itallian carrot who knew of the legendary hairbrush that belonged to Samson, which hid right under the barber shop. He and Leo helped Minnesota Cuke to get it in "Minnesota Cuke And The Search For Samson's Hairbrush." Later in the VeggieTales series, Figero and Leo appeared as cameo characters in other episodes.
Appearance
Figaro is an Itallian carrot he has a big nose and beady eyes who grows brown hair and a mustache. In his first appearance, he wore a barber shop shirt and a striped green tie. When he got a job as a construction worker, he wears a green plaid collared shirt and a brown belt with a bag and a yellow helmet.
Acting
Himself in "Minnesota Cuke And The Search For Samson's Hairbrush"
Construction Worker in "LarryBoy and the Bad Apple"
Construction Worker in "Pistachio The Little Boy That Woodn't"
Sunrise Service Singer and Construction Worker in "Twas The Night Before Easter"
Construction Worker in "The Little House That Stood"
Don in "Veggies in Space: The Fennel Frontier"
Construction Worker in "Larry-Boy and the Non Gentle Giant Robot: A VeggieTales Movie"
Himself in "Strawberry, Alvin and the Great Escape"
Ad blocker interference detected!
Wikia is a free-to-use site that makes money from advertising. We have a modified experience for viewers using ad blockers

Wikia is not accessible if you've made further modifications. Remove the custom ad blocker rule(s) and the page will load as expected.