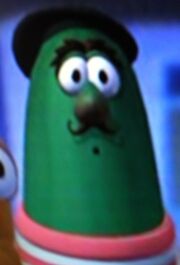 Francois is a character who appeared in "Larry-Boy and the Rumor Weed". He appeared going to the library, and believed the rumors about Alfred being a robot. He soon knows it was a lie, and asks Alfred to forgive them.
Appearance
Francois is a green cucumber who wears a black beret, he has black eyebrows and a curly mustache, and he wears a red top shirt with white stripes.
Acting
Himself in "LarryBoy and the Rumor Weed" (cameo)
Pirate in "The Pirates Who Don't Do Anything: A Veggie Tales Movie"