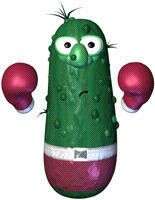 Goliath
is a giant pickle in VeggieTales. He first appeared in
"Dave and the Giant Pickle"
as a Phillistien who fought with Dave. He was much stronger and bigger than any of the soldiers in Israel's army. A small boy named Dave was brave enough to destroy Goliath with God's help. Dave claimed that he would fight Goliath. He got out his slingshot and a stone, and used his slingshot to throw the stone at Goliath's forhead. He collapses, dead.
Appearance
Goliath is a big green pickle. He has warts and hairs all over him. He has a big nose and eyes. When he fought Dave, he changed into red wresling pants and boxing gloves.
Acting
Himself in "Dave and the Giant Pickle"
Father Pickle in "Josh and the Big Wall"
Himself in "Madame Blueberry"
The Giant in "Robin Good and the Not So Merry Men"
Himself in "Little Ones Can Do Big Things Too!"
The Giant in "The Big Beanstalk"
The Giant in "Robin Hood the Clean"
Himself in "VeggieTales"