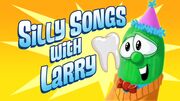 Happy Tooth Day!
is the Silly Song from
The Little House that Stood
and is sung by
Larry the Cucumber
 along with
Mr. Lunt
,
Jimmy Gourd
, and
Jerry Gourd
. In the song, Larry sings about having his one tooth, and has a celebration for the tooth.
Lyrics
Cast
Mike Nawrocki as Larry the Cucumber Jerry Gourd & Jean Claude Pea
Phil Vischer as Mr. Lunt, Jimmy Gourd, Bob and Announcer and Phillipe
Lisa vischer as Junior
Megan Murphy as Madame blueberry
Trivia
This is the first Silly Song since Bubble Rap to be referred to as Silly Songs with Larry.
This Silly Song was played in Chuck E. Cheese's to promote The Little House that Stood as part of the January 2013 Show which is played from January through March of 2013.
In the original YouTube upload of the song, Bob's first line was recorded by Mike Nawrocki rather than Phil Vischer. The Silly Song was reuploaded shortly afterwards with Phil voicing Bob in both parts.
Video
Ad blocker interference detected!
Wikia is a free-to-use site that makes money from advertising. We have a modified experience for viewers using ad blockers

Wikia is not accessible if you've made further modifications. Remove the custom ad blocker rule(s) and the page will load as expected.