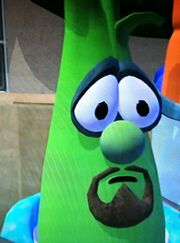 Larry Scallion is a character who appeared in "Larry-Boy & The Rumor Weed". He appeared going to the library, and believed the rumors about Alfred being a robot. He soon knows it was a lie, and asks Alfred to forgive them.
Appearance
Larry is a green scallion who wears a turquoise shirt and has a dark brown beard.
Acting
Himself in "Larry Boy And The Rumor Weed"