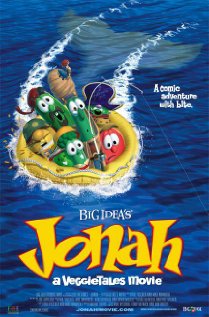 Jonah: A VeggieTales Movie
is the very first VeggieTales movie ever made, and Big Idea's first movie as well.
Plot
Bob the Tomato is driving Junior Asparagus, Laura Carrot, Annie, and Percy pea to the Twippo concert (because Laura won a sweepstakes where she won a backstage pass with extra tickets), and Dad Asparagus is joining them. Unfortunately, things take a rough turn and a porcupine incident causes Laura to lose her ticket and the van, with its two front tires dead, to crash near a seafood restaurant run by the French Peas. Bob is mad at Junior's dad because he, in a way, caused him to drive out of control, and Junior is mad at Laura for teasing him with her ticket, so the two don't speak to each other anymore. Then, Junior meets The Pirates Who Don't Do Anything (Larry, Pa Grape, and Lunt) who decide to help him by telling them the story of how they, in the words of Mr. Lunt, "did that one thing, with that one guy". In Joppa, the Pirates are in need of money so they can win the Mr. Twisty's Twisted Cheese Curls Sweepstakes. Meanwhile, a prophet named Jonah (Archibald) delivers his message to the people of Joppa (A Message from the Lord). That night, he is asked by God to deliver a message to Ninevah, the meanest city that ever existed. Jonah, however, denies the offer, since he hates the people there (It Can Not Be).
Back in the restaurant, the other kids are also listening to the story. The Bob comes in, and Pa decides he should listen, to solve his conflict with Dad Asparagus. Then the Pirates also mention that this story also teaches about compassion and mercy.
Back in Joppa, the next morning, Jonah decides to run away as far away from God as possible. So, he decides to head for Tarshish, and asks the Pirates to take him, since they need the money. Later, down below the deck, he meets Khalil, a caterpillar-worm hybrid, who decides to go with Jonah.
Main Characters
Minor Characters
Transcript:
Trivia