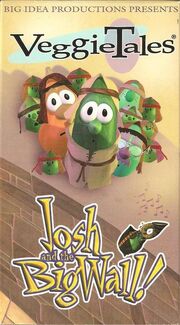 Josh and the Big Wall is the Veggietales video made by Big Idea Productions.
Plot
The episode opens up with Bob and Junior. Junior is filling in for Larry after he got tired after the last show (meaning that he was tired after Larry-Boy and the Fib from Outer Space.) Bob says that he got a letter from Victor Bartholomew of California. He says that there was a kid named Louis in his class who hit him. He wants payback but he learns that God wants everyone to be nice to everyone, even to the cruel ones. Victor is left on whether he wants to go his way or God's way.
Main Characters
Minor Characters
Banner Characters
Trivia
Gallery
Ad blocker interference detected!
Wikia is a free-to-use site that makes money from advertising. We have a modified experience for viewers using ad blockers

Wikia is not accessible if you've made further modifications. Remove the custom ad blocker rule(s) and the page will load as expected.