Lance the Turtle
is the Silly Song from
Gideon: Tuba Warrior
and is sung by
Bob the Tomato
along with the Wiggly Turtle Toobies,
Jean Claude Pea
and
Phillipe Pea
.  With Larry absent, the French Peas force Bob to stand in with a replacement segment, "Ukulele Karaoke with Bob". Confused and completely unprepared, Bob sings the lyrics to his backup singers, "The Wiggly Turtle Toobies" (a trio of peas perched on turtle-shaped cut-outs). Just as Bob is starting to enjoy the song, he accidentally shreds his script through a fan, forcing the Peas to hastily tape the script back together - thus creating completely nonsensical lyrics.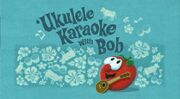 Lyrics
Announcer: And now it's time for 'Ukulele Karaoke with Bob, the part of the show where Bob comes out and sings an 'ukulele karaoke.
Cast
Phil Vischer as Bob the Tomato, Phillipe Pea, and Announcer
Mike Nawrocki as Jean Claude Pea
Kurt Heinecke, Brian K. Roberts and Phil Vischer as Wiggly Turtle Toobies
Trivia
This is technically the 15th Silly Song to be written by Mike Nawrocki, however it was mostly written by Tim Hodge & Kurt Heinecke with Mike making minor contributations such coming up with the Wiggly Turtle Toobies.
This Silly Song was used to promote Gideon: Tuba Warrior when it was played in Chuck E. Cheese's where was a part of the January 2007 Show which played from January through March of 2007.
This Silly Song was originally set to appear on Larry-Boy and the Bad Apple, but was postponed for Gideon: Tuba Warrior when Rock On, Larry-Boy! was conceived.
The Wiggly Turtle Toobies is a parody of The Wiggles
Video
Ad blocker interference detected!
Wikia is a free-to-use site that makes money from advertising. We have a modified experience for viewers using ad blockers

Wikia is not accessible if you've made further modifications. Remove the custom ad blocker rule(s) and the page will load as expected.