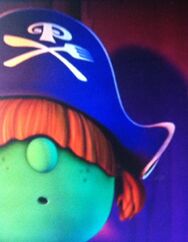 Lucy
is the daughter of George and Caroline and sister of George Jr. She only appears in "The Pirates Who Don't Do Anything: A VeggieTales." Lucy likes to go to the dinner theater, which her father George workes at as a cabin boy. Lucy is quite impressed in Sir Fredrick, an actor in the play. Lucy then looks up more to her father when he saves Sir Fredrick's life.
Appearance
Lucy is a small green grape. She grows short orange hair that has two short ponytails. Lucy also has three freckles on each cheek. Her eyes are not visable, due to her hair. She has a green nose and wears a blue pirate hat with a white mushroom that looks like a skull and a knife and fork that crosses.
Acting
Herself in "The Pirates Who Don't Do Anything: A VeggieTales Movie
Herself in "Larry-Boy and the Non Gentle Giant Robot: A VeggieTales Movie"
Banana Candy in "Strawberry, Alvin and the Great Escape"
Ad blocker interference detected!
Wikia is a free-to-use site that makes money from advertising. We have a modified experience for viewers using ad blockers

Wikia is not accessible if you've made further modifications. Remove the custom ad blocker rule(s) and the page will load as expected.