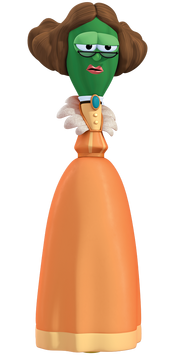 Appearance
Miss Minchin is a green onion. She has short brown hair, and wears pink lipstick and wears glasses and wears a dress with a wide white coller and the dress is different shades of pink.
Acting
Herself in "The Penniless Princess: God's Little Girl"
Herself in "The Little House That Stood"
Madame Chalot in "Beauty and the Beet"
fate 
when she went to mr.carriford's house to get sara and when she arrived she asked his butlers if sara was here, they said yes and this time she was the one who was in trouble, caught by mr. carriford and he told her that sara was no longer in her care, he promised her papa he would take care of her now. miss minchin was fired by her boss and miss amelia was now headmistress and promised to take in homeless girls, but not as servents. 
Ad blocker interference detected!
Wikia is a free-to-use site that makes money from advertising. We have a modified experience for viewers using ad blockers

Wikia is not accessible if you've made further modifications. Remove the custom ad blocker rule(s) and the page will load as expected.