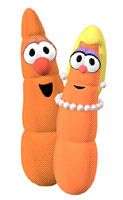 lisa
Carrot
is the mother of Laura, Lenny, and Baby Lou Carrot and the wife of Dad Carrot. She is a minor character who appeared in very few episodes, but her appearances are becoming more often. Like her husband, she looks different than from the earlier VeggieTales episodes.
Appearance
In the earlier episodes, she looked like a normal carrot. She wore a pearl necklace and earings and grew short, blonde hair. Her eyes were colored purple and she wore eyeliner and had a small reddish-orange nose. In the latest episodes, she has longer hair and is in the shape of a baby carrot. She wears red lipstick and has more clothing than she used to.
Acting
Townsfolk in "The Toy That Saved Christmas"
Laura's Mom in "Larry-Boy and the Fib From Outer Space"
Jopponian in "Jonah A VeggieTales Movie"
Miriam's Mother in "BabySitter in De-Nile" on "Duke And The Great Pie War"
Herself in "Saint Nicholas A Story Of Joyful Giving"
Liliana's Mother in "Pistachio The Little Boy that Woodn't"
Mrs. Poppyseed in "Princess And The Popstar A Story Of Trading Places"
Herself in "How the Zucchini Stole Christmas!"
Mary Sweetheart in "Peter Dam: The Boy Who Flew"
Ginger Snap's Mother in "Strawberry, Alvin and the Great Escape"
Voice Actors
Keri Pisapia (Princess And The Popstar A Story Of Trading Places)
Gallery
Trivia
Like the other mothers, Mom Pea and Mom Asparagus, she wore a pearl necklace and earings in the earlier episdes.
In the "Toy That Saved Christmas" commentary the creator of the show said she looks weird laying on her side.
Ad blocker interference detected!
Wikia is a free-to-use site that makes money from advertising. We have a modified experience for viewers using ad blockers

Wikia is not accessible if you've made further modifications. Remove the custom ad blocker rule(s) and the page will load as expected.