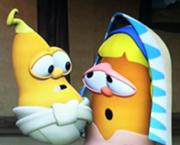 Moses
is a minor character in VeggieTales. He first appears in
"Duke and the Great Pie War"
as the brother of Miriam (Laura Carrot). He was called a girl so the Egyptian guards won't take him away, since the king was afraid the boys might grow up and fight against him. He was protected by Miriam, then adopted by the princess of Egypt, so he was not harmed. He then made a couple other appearances.
Appearance
Moses is a small, orange carrot. He has a strand of curly blonde hair on his head and a small nose, and a tooth like Larry's. He also is always seen wearing a diaper. Sometimes he can be seen in the form of a cucumber.
Acting
Himself in "BabySitter in De-Nille on "Duke and the Great Pie War"
Himself in "LarryBoy and the Bad Apple"
Himself in "Moe and the Big Exit"
Himself in "Tomato Sawyer and Huckleberry Larry's Big River Rescue"
Himself in "The Penniless Princess" (DVD special feature)
Himself in "Little Ones Can Do Big Things Too!" (picture)
Himself in "MacLarry and the Stinky Cheese Battle" (picture)
​Trivia
His body form was recycled from Snoodle Doo's.
He greatly resembles Baby Lou.
Sometimes he is seen as a cucumber.
Gallery
Ad blocker interference detected!
Wikia is a free-to-use site that makes money from advertising. We have a modified experience for viewers using ad blockers

Wikia is not accessible if you've made further modifications. Remove the custom ad blocker rule(s) and the page will load as expected.