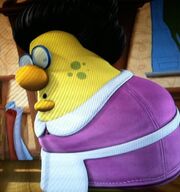 Appearance
Mrs. Clark is a elderly and pale yellow gourd beady eyes and nose and her chin has a black hair wears a round glasses is fittied on with a white collared shirt and a pink dress.
Acting
Herself in "Twas The Night Before Easter"
Teacher in "Robin Good And His Not So Merry Men"
Herself in "The Penniless Princess God's Little Girl"
Herself and Old Mother Hubbard in "The Little House That Stood"
Lunch Lady in "Veggies in Space: The Fennel Frontier"
Herself in "Larry-Boy and the Non Gentle Giant Robot: A VeggieTales Movie"
Ad blocker interference detected!
Wikia is a free-to-use site that makes money from advertising. We have a modified experience for viewers using ad blockers

Wikia is not accessible if you've made further modifications. Remove the custom ad blocker rule(s) and the page will load as expected.