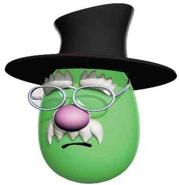 Appearance
Pa Grape with Black Tophat is a green grape white eyebrows and mustache purple nose wears a glasses and a black Tophat.
Acting
Himself in "God Wants Me To Forgive Them!?!"
Himself in "The Hairbrush Song" on Are You My Neighbor?"
Himself in "Larry-Boy! And The Fib From Outer Space!" 
Himself in "Madame Blueberry (picture)"
Himself in "The Wonderful World of Auto-Tainment!"
Himself in "God Made You Special"
Himself in "Tomato Sawyer and Huckleberry Larry's Big River Rescue"
Himself in "If I Sang A Silly Song"
Himself in "Noah's Ark"
Ad blocker interference detected!
Wikia is a free-to-use site that makes money from advertising. We have a modified experience for viewers using ad blockers

Wikia is not accessible if you've made further modifications. Remove the custom ad blocker rule(s) and the page will load as expected.