Appearance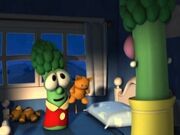 Pajamas Junior is an asparagus who wears a Red Pajama Top in a tilted direction. His nose is small and dark green. His eyelid color is light green, like his skin. Like Archibald, he smiles to the side of his mouth
Acting
Show
Himself in "It's A Meaningful Life"
Himself in "Twas The Night Before Easter"
Book
Himself in "Junior's Colors"
Ad blocker interference detected!
Wikia is a free-to-use site that makes money from advertising. We have a modified experience for viewers using ad blockers

Wikia is not accessible if you've made further modifications. Remove the custom ad blocker rule(s) and the page will load as expected.