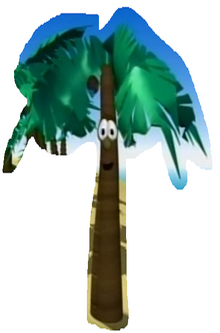 Palmy is a palm tree at the island in VeggieTales. He likes to sing and uses two coconuts he grows on himself as the backup singers. He teaches people to forgive and told Bob, Archibald and Lovey how to forgive Larry is ruined the sea tour and finally crashes into the rock.
Appearance
Palmy is a brown palm tree with several green leaves growing on him. He has regular eyes with a different shade of brown. He also has coconuts growing on him that sing and has eyes and a mouth.
Acting
Himself in "Where's God When I'm S-Scared?" (theme song)
Himself in "Larry's Lagoon" on "God Wants Me To Forgive Them?!?"
Himself in "Are You My Neighbor?" (theme song)
Himself in "Rack, Shack and Benny" (theme song)
Himself in "Dave and the Giant Pickle" (theme song)
Himself in "Very Silly Songs"
Himself in "Larry-Boy and the Fib from Outer Space!" (theme song)
Himself in "Josh and the Big Wall" (theme song)
Voice Actor
Gallery
Trivia
His voice actor Jeff Morrow, actually voiced Dig'Em the frog from the 1960's Honey Smacks commercials.
Ad blocker interference detected!
Wikia is a free-to-use site that makes money from advertising. We have a modified experience for viewers using ad blockers

Wikia is not accessible if you've made further modifications. Remove the custom ad blocker rule(s) and the page will load as expected.