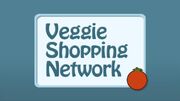 Pants
is the Silly Song from
Sweetpea Beauty: A Girl after God's Own Heart
and is sung by
Larry the Cucumber
along with
Jimmy Gourd
,
Jerry Gourd
,
Pa Grape
, and Singing Pants.
Lyrics
Announcer: Next up on Veggie Shopping Network, pants.
Trivia
This Silly Song was used to promote Sweetpea Beauty: A Girl after God's Own Heart when it was played in Chuck E. Cheese's when it was a part of the Summer 2010 Show which played July and August of 2010.
Video
Ad blocker interference detected!
Wikia is a free-to-use site that makes money from advertising. We have a modified experience for viewers using ad blockers

Wikia is not accessible if you've made further modifications. Remove the custom ad blocker rule(s) and the page will load as expected.