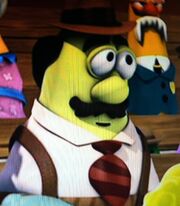 Appearance
Pete is a pale green gourd eyes and triangular nose grows a black hair, mustache and eyebrows. He also has bald spot that is covered by his hat. He also wears a brown hat who wears white collared shirt with a brown striped overalls.
Acting
Himself in "Larry-Boy and the Bad Apple"
Chester's Father in "The Wonderful Wizard Of Ha's"
Himself in "Minnesota Cuke And The Search For Noah's Umbrella"
Himself in "Saint Nicholas A Story Of Joyful Giving"
Himself in "It's A Meaningful Life"
Himself in "Twas The Night Before Easter"
Himself in "Merry Larry and the True Light of Christmas"
Himself in "Beauty and the Beet"
Himself in "Larry-Boy and the Non Gentle Giant Robot: A VeggieTales Movie"
Ad blocker interference detected!
Wikia is a free-to-use site that makes money from advertising. We have a modified experience for viewers using ad blockers

Wikia is not accessible if you've made further modifications. Remove the custom ad blocker rule(s) and the page will load as expected.