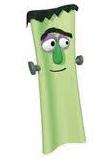 Phil Winklestien
is a minor character in the VeggieTales series. He first appears in
"Where's God When I'm S-Scared?"
acting as the infamous Frankencelery who scared Junior while watching television. Phil is a famous actor from Toledo, Ohio who acts as Frankencelery. He visits Junior and tells them that his acting isn't real and he wouldn't hurt anybody. He then says he is sorry for scaring Junior on television.
Acting
Voice Actor
Gallery
Ad blocker interference detected!
Wikia is a free-to-use site that makes money from advertising. We have a modified experience for viewers using ad blockers

Wikia is not accessible if you've made further modifications. Remove the custom ad blocker rule(s) and the page will load as expected.