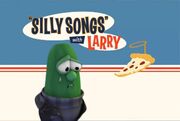 Pizza Angel
is the Silly Song from
Minnesota Cuke and the Search for Samson's Hairbrush
and is sung by
Larry the Cucumber
. In the song, Larry awaits his pizza delivery, which is hours late, and sings a desperate, 50's-style love ballad as he waits. When the pizza finally arrives, it is revealed that the delivery man missed the door because a number was upside-down (and that he also ate Larry's pizza).
Cast
Mike Nawrocki as Larry
Phil Vischer as Jimmy Gourd & Announcer
Gretchen Heinecke, Kurt Heinecke and Rachael Pitts as Pea Backup Singers
Releases
Audio
Music from and Inspired by Minnesota Cuke (2005)
Silly Songs No. 1 (2009) (German version)
25 Favorite Silly Songs! (2011)
And Now It's Time for Silly Songs with Larry (2013)
Video
Minnesota Cuke and the Search for Samson's Hairbrush (2005)
If I Sang a Silly Song... (2012)
And Now It's Time for Silly Songs with Larry (2013)
Trivia
This is the 3rd Silly Song to not be written by Mike Nawrocki, it was written by both Tim Hodge along with Big Idea's music director Kurt Heinecke.
This Silly Song was used to promote Minnesota Cuke and the Search for Samson's Haorbrush when it was played in Chuck E. Cheese's as a part of the September 2005 Show that played between September and November of 2005.
Larry's outfit that he wears in this Silly Song is the same one he wears when he's a part of Boyz in the Sink (minus the hat and goatee).
The Peas that sing backup are a reuse of the same pea who played the Angel in the Christmas pagent from The Star of Christmas.
Video
Ad blocker interference detected!
Wikia is a free-to-use site that makes money from advertising. We have a modified experience for viewers using ad blockers

Wikia is not accessible if you've made further modifications. Remove the custom ad blocker rule(s) and the page will load as expected.