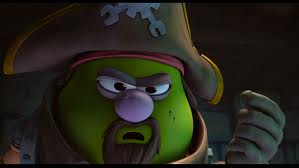 Robert the Terrible is the bad pirate in the movie "The Pirates Who Don't Do Anything". He is a gourd and an inventor. He has a mechanical body. He kidnapped Alexander and Eloise because he was after The King's crown, but sank then came backk trying to get who he thought was George but was Sir Fredrick A.K.A Jimmy Gourd but George, Elliot, and Sedgewick stopped him and sent him back. He also appears in the music video Rock Monster, but he doesn't sing.
Appearace
Robert the Terrible is a green gourd or a pear his arms are here and his legs appeared he has a pink nose like his eyelids and he wears pirate hat.
Acting
Himself in The Pirates Who Don`t Do Anything A VeggieTales Movie
Ad blocker interference detected!
Wikia is a free-to-use site that makes money from advertising. We have a modified experience for viewers using ad blockers

Wikia is not accessible if you've made further modifications. Remove the custom ad blocker rule(s) and the page will load as expected.