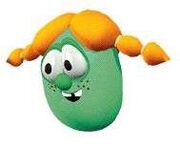 Rosie Grape
is the youngest member of the Grape Family in the VeggieTales series. She often bickers with her older brother,
Tom Grape
until
Dad Asparagus
taught them to be kind. Before she knew how to be kind, she had a bad habit of throwing snakes in people's drinks. She then made a cameo appearance in
"Larry-Boy & the Fib from Outer Space!"
before being put into retirement.
Appearance
Rosie is a green grape that grows orange hair with two pigtails. On each pigtail is two yellow hairbands. She has buck teeth and has freckles like her brother.
Acting
Herself in "Where's God When I'm S-Scared?" (Theme Song)
Herself in "The Grapes of Wrath" on "God Wants Me to Forgive Them?!?"
Herself in "Are You My Neighbor?" (Theme Song)
Herself in "Rack, Shack, & Benny" (Theme Song)
Herself in "Dave and the Giant Pickle" (Theme Song)
Herself in "Very Silly Songs" (Theme Song)
Herself in "Larry-Boy & the Fib from Outer Space!" (Cameo and Theme Song)
Herself in "Josh and the Big Wall!" (Theme Song)
Herself in "Bob & Larry's Favorite Stories!"
Singer in "A Veggie Christmas Carol"
Herself in "Strawberry, Alvin and the Great Escape"
Herself in "The VeggieTales Elimination Show"
Voice Actor
Bridget Miller ("God Wants Me to Forgive Them?!?")
Trivia
The reason behind Rosie's retirement according to Phil Vischer & Mike Nawrocki was due to her voice actress (as well as a former employee at Big Idea) Bridget Miller who was also the original voice of Ma Grape moving away sometime after "A Very Veggie Christmas" was finished which was the last time she played Rosie & Ma and was simply retired instead of finding a replacement. Despite that though, she still continued to appear at least once more in the actual series as well as on various merchindise up until early 2000 when her last appearance to date was on a "Crisper County Fair!" E-card. She appeared in the 1993 VeggieTales Theme Song through Are You My Neighbor? - Josh in the Big Wall!
She was going to be named Rosa Sharon, but according to Phil Vishcer, Vischer's mother who does bible research for the show, didn't want it to happen because somehow Rosa Sharon is another name for Jesus Christ. This can all be heard on the "God Wants Me To Forgive Theme?!?" commentary.
Gallery
Ad blocker interference detected!
Wikia is a free-to-use site that makes money from advertising. We have a modified experience for viewers using ad blockers

Wikia is not accessible if you've made further modifications. Remove the custom ad blocker rule(s) and the page will load as expected.