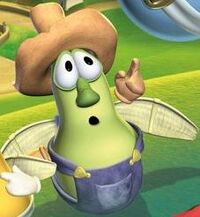 Snoo Farmer
is a farmer snoodle. He owns a patch of land that grows Thimbuddle Plants that squirt Snoo-Berry Jello. Like the other snoodles in Snoodleburg, he discouraged Snoodle Doo with a dreadful painting of himself in the mud.
Appearance
The Snoo Farmer is a pale green snoodle. He wears a straw hat and blue overalls. He has a big pale purple nose and pale purple eyes. He also carries around a strand of wheat.
Acting
Himself in "A Snoodle's Tale"
Himself in "Snoodlerlla on "Sweetpea Beauty: A Girl After God's Own Heart" (picture)
Ad blocker interference detected!
Wikia is a free-to-use site that makes money from advertising. We have a modified experience for viewers using ad blockers

Wikia is not accessible if you've made further modifications. Remove the custom ad blocker rule(s) and the page will load as expected.