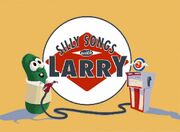 Sport Utility Vehicle (also known as SUV) is the Silly Song from A Snoodle's Tale and is sung by Larry the Cucumber and Miss Achmetha. In the song, Larry and Miss Achmetha sing of their admiration for each other's SUV's, but stuck in their sedentary lifestyles, they can only dream of going off-road and performing daring rescues.
Cast
Mike Nawrocki as Larry the Cucumber
Char Jackson as Miss Achmetha
Releases
Audio
Video
A Snoodle's Tale (2004)
If I Sang a Silly Song... (2012)
And Now It's Time for Silly Songs with Larry (2013)
Trivia
This is the 12th Silly Song to be written by Mike Nawrocki.
This Silly Song was used in Chuck E. Cheese's as a part of the original version of the April 2005 Show which played April through June of 2005. It was used again in the September 2007 Show which played from September through November of that year.
This is the only Silly Song to not have a beginning narration by the Announcer (not counting The Yodeling Veterinarian of the Alps)
Video
Ad blocker interference detected!
Wikia is a free-to-use site that makes money from advertising. We have a modified experience for viewers using ad blockers

Wikia is not accessible if you've made further modifications. Remove the custom ad blocker rule(s) and the page will load as expected.