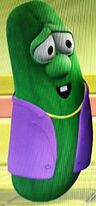 Steve the Cucumber is Larry, Mark, and Bob the Cucumber's little brother. He is the tallest cucumber, though he is the youngest. Like Mark and Bob, he doesn't talk much and has a talent in singing. He also works at a hardware store with Mark and Bob.
Appearance
Steve is the tallest cucumber in the family. He has one tooth and a big nose. He wears a purple jacket with a golden necklace.
Aciting
Himself in "Duke and the Great Pie War"
Themselves in "The Pirates Who Don't Do Anything: A VeggieTales Movie"
Espresso in "Pistachio The Little Boy That Woodn't"
Old Man Zucchini in "The Little House That Stood"
Himself in "Larry-Boy and the Non Gentle Giant Robot: A VeggieTales Movie"
Gallery
Ad blocker interference detected!
Wikia is a free-to-use site that makes money from advertising. We have a modified experience for viewers using ad blockers

Wikia is not accessible if you've made further modifications. Remove the custom ad blocker rule(s) and the page will load as expected.