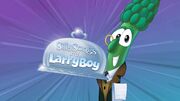 Supper Hero
is the Silly Song from
The League of Incredible Vegetables
and is sung by the Supper Hero (
Jimmy Gourd
) along with the Larry-Boy (
Larry the Cucumber
), ThingamaBob (
Bob the Tomato
), S-Cape (
Mr. Lunt
), and Vouge (
Petunia Rhubarb
).
Lyrics
Cast
Phil Vischer as Supper Hero (Jimmy), ThingamaBob (Bob), S-Cape (Mr. Lunt), Alfred (Archibald Asparagus), and Announcer.
Mike Nawrocki as Larry-Boy (Larry)
Cydney Trent as Vouge (Petunia)
Trivia
This Silly Song (along with The League of Incredible Vegetables Theme) was used to promote The League of Incredible Vegetables when it was played in Chuck E. Cheese's as a part of the September 2012 Show that played between September and November of 2012.
Song
Ad blocker interference detected!
Wikia is a free-to-use site that makes money from advertising. We have a modified experience for viewers using ad blockers

Wikia is not accessible if you've made further modifications. Remove the custom ad blocker rule(s) and the page will load as expected.