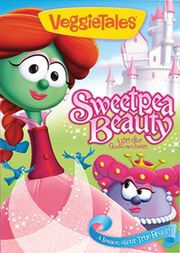 Sweetpea Beauty is the VeggieTales episode, released on July 31st 2010.
Plot
The countertop opens with Larry, trying on the hats. Petunia & Annie come in. They have a message from Lauren Thomas of Garden Grove Caulifornia.
Bob tells you a story about Snoodlerella, a sequel to A Snoodle's Tale, except a girl version. She lived with her cruel step-mother, and two sisters thought that she is ugly and messy. Snoodlrella has to be pretty. Then, she lies in bed and starts crying until Berry and the ducks come in to make her be pretty. Then, she goes back to her real-self until the king asked her to dance.
This is a silly song called, Pants. Larry, Jimmy, Jerry, and Pa Grape do a Veggie Shopping Network commercial for pants. Jimmy and Jerry put on pants using stilts. Pa Grape is in charge of selling the pants.
Unbrilliant shoots the acorn in his body. Mirror cracks his glass and he falls and shatters. Prince Larry and Sweetpea are married.
Back on the countertop, Larry, Petunia & Annie wrap up that it was a nice story. Snoodlerella learned that she wants to be pretty.
Main Characters
Supporting Characters
Minor Characters
Cameo Characters
Trivia
Ad blocker interference detected!
Wikia is a free-to-use site that makes money from advertising. We have a modified experience for viewers using ad blockers

Wikia is not accessible if you've made further modifications. Remove the custom ad blocker rule(s) and the page will load as expected.