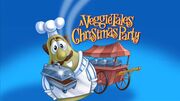 The 8 Polish Foods of Christmas
is a song from
A Very Veggie Christmas
but then became it's own Silly Song on
The Little Drummer Boy
and is sung by
Oscar the Polish Caterer
along with
Larry the Cucumber
,
Bob the Tomato
,
Jimmy Gourd
,
Jerry Gourd
,
Archibald Asparagus
,
Junior Asparagus
, and
Pa Grape
.
Lyrics
Cast
Mike Nawrocki as Oscar the Polish Caterer & Larry the Cucumber
Phil Vischer as Bob the Tomato, Archibald Asparagus, Jimmy Gourd, Pa Grape, and Announcer
Lisa Vischer as Junior Asparagus
Trivia
This is the 23rd Silly Song written by Mike Nawrocki.
This Silly Song has been used twice in Chuck E. Cheese's, first being a part of the 2011 version of the Happy Holidays showtape where it was to promote The Little Drummer Boy, than it reappeared as a part of the 2012 version of the same showtape as a reused intermission.
Video