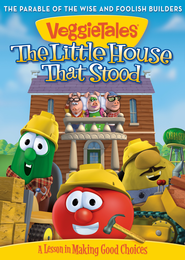 The Little House That Stood is the 55th VeggieTales episode. It marks BigIdea's 20th anniversary. It will be released on March 2, 2013. It teaches kids about making good choices in life
Plot
When three little pigs stroll into town looking for building contractors, they meet one with a plan- and two without a clue. Larry builds with hay and Mr. Lunt with bricks. Only Bob follows plans from the Master Builder's Handbook. Whom will the piglets chose to construct their homes?
Plus, a bonus story reveals what happened before Humpty cracked!
Trivia
This is the second appearance of the Pigs, first being "Astonishing Wigs" from "Princess and the Popstar".
References
Main Characters
Theme Song Characters
Supporting Characters
Minor Characters
Gallery