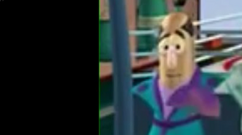 Appearance
The shortest carrot is a orange carrot eyes and long nose has a brown hair with eyebrows, and a baldspot. He wears a reddish-pink collared shirt with a white undershirt and brown jeans with a black belt.
Acting
Japanese Carrot in "Sumo Of The Opera"
Themselves in "Lord Of The Beans"
Himself in "Gated Community on "Sheerluck Holmes and the Golden Ruler"
Docter in ''Larry Boy And The Bad Apple''
Western in "Moe And The Big Exit"
Themselves in "The Pirates Who Don't Do Anything: A Veggie Tales Movie"
Himself in "Minnesota Cuke And The Search For Noah's Umbrella"
Docter in ''It's A Meaningful Life''
Himself in "Larry-Boy and the Non Gentle Giant Robot: A VeggieTales Movie"