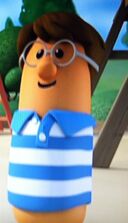 Appearance
Unnamed Carrot Boy is a carrot has a brown hair wears a dacky flootie wears a brown and white clothing with four buttons and wears a tan hat and white shirt and peach jacket
Acting
Himself in "Bob's Vacation on God Made You Special" (cameo)
Himself and Newspaper Boy in "Pistachio: The Little Boy That Woodn't"
Newspaper Boy in "The Penniless Princess: God's Little Girl"
Newspaper Boy in "MacLarry and the Stinky Cheese Battle"
Ad blocker interference detected!
Wikia is a free-to-use site that makes money from advertising. We have a modified experience for viewers using ad blockers

Wikia is not accessible if you've made further modifications. Remove the custom ad blocker rule(s) and the page will load as expected.