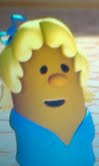 Appearance
Unnamed Carrot Girl is a orange carrot beady eyes and nose has a yellow or brown hairs and wears a light green with a hearts or light blue dress and a pink winter hat and a pink striped winter scarf.
Acting
Herself in "God Made You Special"
Mexican Carrot Girl in "Minnesota Cuke And The Search For Noah's Umbrella"
Herself in "Saint Nicholas A Story Of Joyful Giving"
Herself in "Silly Little Thing Called Love"
Herself in "Happy Together"
Herself in "Twas The Night Before Easter"
Herself In "Little Ones Can Do Big Things Too!"
Herself in "Merry Larry and the True Light of Christmas"
Herself in "Celery Night Fever"
Herself in "Beauty and the Beet"
Herself in "Larry-Boy and the Non Gentle Giant Robot: A VeggieTales Movie"
Gallery