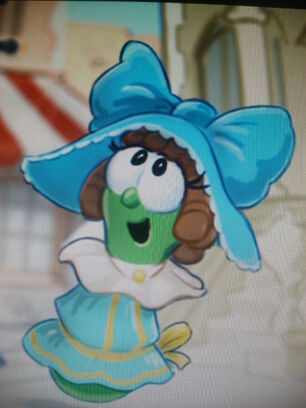 The Onion Girl is a sweet girl who stars in "The Penniless Princess." Onion Girl was sent to boarding school from her rich father, Captain Crewe, while he went off to the army. Sara befriended another boarding school girl, Ermengarde, and a girl servant Becky. Since Onion Girl's father died at war, no one could pay for Onion Girl's room or class, so she was turned into a servant like Becky. Even though Sara was poor and hungry, she still looked up to God and tried to make the best of things. Headmistress Minchin kept on being cruel to Becky and Onion Girl, but one day Richard Crewe's old friend, Mr. Carrisford, found Sara and adopted her. Headmistriss Minchin was fired at the boarding school for her cruelty, and Sara and Becky were then allowed to continue school.
Appearance
Onion Girl is a small onion She has a green nose and eyelids with long eyelashes. She also has pink blush and brown hair. At the begining of "The Penniless Princess," Sara wore a blue hat with a bow and a blue and yellow dress with a red button. Later on in the episode, she wears a pink and white school uniform and a blue bow in her hair. She then wore a gray bonnet and dress at the end when she was poor.
Acting
Herself in "The Penniless Princess God's Little Girl"
Ad blocker interference detected!
Wikia is a free-to-use site that makes money from advertising. We have a modified experience for viewers using ad blockers

Wikia is not accessible if you've made further modifications. Remove the custom ad blocker rule(s) and the page will load as expected.