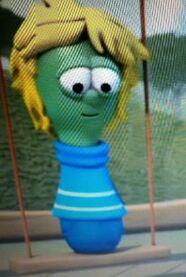 Onion Boy is a recurring character in VeggieTales. He first appears as one of the interviewed Veggie Kids in "God Made You Special." During interviews, he is usually seen with Emily, who is said to be his sister. He then appears again in various other episodes, Dirk usually cameo appearances.
Appearance
Orphan Oinon Boy is a small green onion. He is usually seen wearing a blue sweater with white stripes and dark blue pants. He has a small nose, and he has shaggy hair that shifts from blonde to brown In most of the episodes he is English
Acting
Himself in "God Made You Special"
Himself in "Happy Together"
Himself in "Silly Little Thing Called Love"
Himself in "It's A Meaningful Life"
Himself in "Little Ones Can Do Big Things Too!"
Ad blocker interference detected!
Wikia is a free-to-use site that makes money from advertising. We have a modified experience for viewers using ad blockers

Wikia is not accessible if you've made further modifications. Remove the custom ad blocker rule(s) and the page will load as expected.