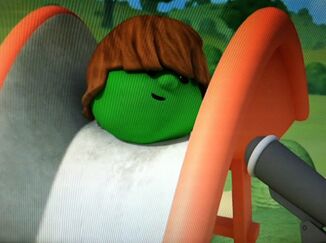 The Unnamed Pea Boy
is an unnamed character in VeggieTales. He first appears in "Sheerluck Holmes and the Golden Ruler" at  Doyle's resteraunt.  He Was a
Customers Of Doyle's Resteraunt
. He then appears again in "God Made You Special" as one of the interviewed Veggie Kids. He then appears again throughout the Veggie Kids interviews.
Appearance
Unnamed Pea Boy is a green pea beady eyes and nose regular kid pea. He is very similar to Little Nate, but has long brown hair. He is also sometimes seen with blonde long yellow hair.
Acting
Himself in "Sheerluck Holmes and the Golden Ruler"
Himself in "God Made You Special"
Themselves in "The Pirates Who Don't Do Anything: A Veggietales Movie"
Himself in "Larry-Boy and the Non Gentle Giant Robot: A VeggieTales Movie"
Ad blocker interference detected!
Wikia is a free-to-use site that makes money from advertising. We have a modified experience for viewers using ad blockers

Wikia is not accessible if you've made further modifications. Remove the custom ad blocker rule(s) and the page will load as expected.